Simulated Blood with Realistic Clotting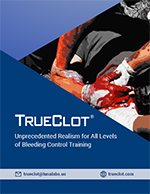 TrueClot bleeding control training products provide unprecedented and low-cost realism for all levels of training from civilian Stop The Bleed® courses to Tactical Combat Casualty Care (TCCC) for first responders, combat medics and corpsmen.
TrueClot Blood Simulant looks, feels and behaves like human blood and will realistically form blood clots when used with TrueClot Simulated Hemostatic Dressings. Thanks to this one-of-a-kind technology, TrueClot Task Trainers will bleed until the user has properly packed the wound or applied a tourniquet or correctly.